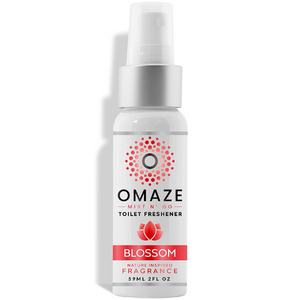 32803- Omaze Blossom 2oz
Mist and go! Be OMAZED with the results and leave the restroom smelling better long after toilet use

Don't mask. Naturally target odors on a molecular level. Unlike others, OMAZE Odor Neutralizing Toilet Freshener is scientifically proven to target odors at the source

Our unique blend of meticulously selected ingredients quickly neutralizes bathroom odors and freshens the air with its long-lasting nature inspired aromas

Multiple Uses: Spray into smelly trash cans, laundry, diaper pails, and litter boxes to get rid of malodors

Made in the USA. No parabens, sulfates, phthalates, preservatives, and formaldehyde. No brainer!