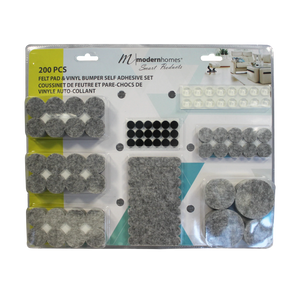 99155 - Felt Pad Set
Item# 99155
This Modern Homes 200pc Felt Pad and Vinyl Bumper Set is essential to protect flooring, table tops and furniture from scratches. Features quality felt and durable self-adhesive backing. Just pick from the variety of shapes and sizes then peel and stick to create a non-scratch surface.
Protects furniture and floor from scratching
Reduces noise when moving furniture
Ideal for wood floors
Perfect to cushion closing cabinets
Variety of shapes and sizes
Includes: 18of 3/8inch round felt, 20 of ¾inch roundfelt, 112 of1inch roundfelt, 8 of 1½inch roundfelt, 8 of 2inch roundfelt, 18 of ½inch x 2-5/8inch rectangularfelt and 16of ½inch round vinylbumpers
Object# 99155
Cet ensemble de coussins en feutre et pare-chocs en vinyle 200 pièces de Modern Homes est essentiel pour protéger les sols, les dessus de table et les meubles des égratignures. Comprend un feutre de qualité et un support auto-adhésif durable. Choisissez parmi la variété de formes et de tailles, puis pelez et collez pour créer une surface anti-rayures.

Protège les meubles et le sol des rayures
Réduit le bruit lors du déplacement des meubles
Idéal pour les planchers de bois
Parfait pour amortir les armoires de fermeture
Variété de formes et de tailles
Comprend : 18 feutres ronds de 3/8 po, 20 feutres ronds de ¾ po, 112 feutres ronds de 1 po, 8 feutres ronds de 1 ½ po, 8 feutres ronds de 2 po, 18 feutres rectangulaires de ½ po x 2 5/8 po et 16 pare-chocs ronds en vinyle de ½ po